BBC Documentary Series Inside The Factory
On the 5th January 2022, our customer Silverwood, producers of award winning, quality, professional grade bakeware featured on BBC 2'sdocumentary series Inside the Factory.
The MasterChef star Greg Wallace and his co-host Cherry Healey visited the worlds biggest malt loaf factory, Soreen and Silverwood, one of the last remaining British Bakeware manufactures, are the suppliers of the aluminium loaf tins.
Cherry Healey is then seen visiting the Badger Anodising factory where the aluminium tins are anodised.
Aluminium reaches baking temperatures faster and cooler quicker, a critical ingredient of the perfect bake.
Congratulations to Silverwood and Badger Anodising for keeping Birmingham on the map.
Salvage Hunters: Classic Cars
Badger Anodising will be featured on Salvage Hunters: Classic Cars on Wednesday 8th January at 9pm on Quest, channel available on Freeview, Virgin Media and SKY.
Click here to read more about the episode
Farnborough Southern Manufacturing and Electronics Show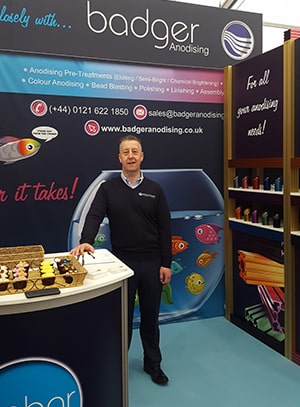 Many thanks to all who came to see us at stand L1 at Southern Manufacturing .
It was encouraging to see so many people at the show all giving positive comments on our bespoke stand and free cupcakes on offer.
We had a very large amount of enquires of which I hope will materialise in to new business.
Southern Manufacturing and Electronics show in Farnborough
We are pleased to announce that we will be exhibiting at the Southern Manufacturing and Electronics show in Farnborough GU14 6XL
The show will be taking place from 21st-23rd March 2017
9.30am - 4.30pm (3.30pm close Thurs)
You will find us on Stand L1
The UK's premier manufacturing supply chain show
Badger Anodising was delighted to attend Subcon ,the UK's premier manufacturing supply chain show, which took place over 3 day's at Birmingham's NEC between the 7-9th June 2016.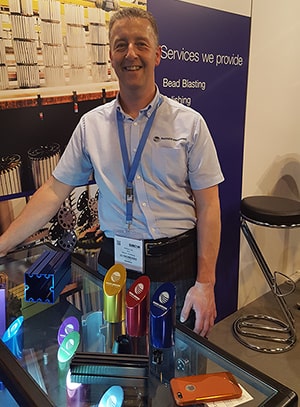 Located on stand B17, we show cased our fantastic range of colours and samples demonstrating the various pre – treatments that can be achieved  prior to the anodising , polishing, bead blasting and linishing  , all of which is carried out in house at our factory in Birmingham.
We were overwhelmed by the amount of new enquires we received which only reconfirms that quality and turnaround times are not always a given with in the industry.
If you did not manage to see us at Subcon and you would like to talk to us please feel free to contact us on 0121 622 1850 or email This email address is being protected from spambots. You need JavaScript enabled to view it..